For those who wish to get into a foreign community, I tend to suggest overcoming language barrier first. Of course I don't mean making foreign friends is a must-to-do.
I write this blog just in case you wish to meet or have already met amazing people of a different nationality.
How to make foreign friends?
Before I came, I expected everyone I meet would be my friends. I expected I would be busy with attending parties. I also expected I could have photos in which I laugh very happily surrounded by friends from all over the world to prove I get into others very well.
Unfortunately, these are not true, at least for me.
I tend to say I was ridiculously naive for I thought I could have loads of common topics with people. But the reality is that once you lose faith in your language ability, it will be hard to start a conversation next time.
So I suggest overcoming language barrier first.
Unsurprisingly, the most lonely moment I felt was that I found everything around me was so unfamiliar. Unfamiliar faces, unfamiliar language, unfamiliar environment. Of course I had tried to video call my old friends or parents as long as possible to feel less empty. But believe me, it is not a perfect way because I really understand. There are some situations that we can not escape, especially where we live everyday.
Believe it or not, this is the best part of loneliness actually. It pushes you to find new friends or try to improve your personal relationships.
As I talk about 'overcome language barrier' I don't say let's practice hard and speak as fluently as local! I mean don't feel afraid of not speaking well. So speak English boldly, bold as brass.
Well.. by this I mean please not feel shy but not in an annoying way.
In fact, most local people will not laugh at you even if you don't speak well. They are also very patient and will wait until you express clearly and even find ways to help you to improve. Only by practicing English will there be improvement. Only by giving new things a shot, talking to different people will you extend horizons and know foreign cultures.
Actually I met a Korean girl that I want to be friends so bad. I want to hang out with her, I want to have dessert with her and I want to share funny memes with her. I want to do this, I want to do that. I don't know where my courage came from but I did automatically invite her to hang out in the Western Park. Obviously English is not mother language for both of us, we still have good time though.
The secret here is using body language.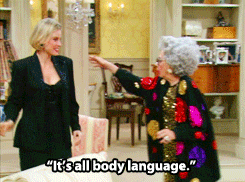 So you see, there are many ways to overcome language barrier if you feel like to.
How to improve English?
As for tips for improving English, you can Google it. I'm sure you will find thousands of blogs about it. But Here is my personally favourites YouTuber I earn British English from.
Hopefully it will be helpful!